Blinds
We offer a large selection of made to measure blinds. We can order Roller, Venetian, Vertical, Wooden or Roman blinds . Available in traditional and contemporary designs suitable for all range of tastes, styles and decors.
These will be ready for you within 2-3 weeks.
We will be pleased to assist you in your choice and you can borrow samples to look at in your home. It is helpful if you can bring in some measurements with you which will enable us to quote you a price, if required we can arrange to measure for you.
Measuring Blinds to fit inside a Recess
Measure the width and the drop in 3 positions, noting any protrusions such as dado rails and tiles.
Make a note of the smallest width and drop measurement in mm.
Please choose 'recess size' when placing your order and we will make the necessary adjustments to allow the blind to fit the recess.
Measuring Blinds to fit outside a Recess
Allow the blind to extend approximately 50-100mm above and below the window and 50-100mm either side.
Make a note of the required width and drop in mm.
Please quote 'blind size' when placing your order. This is the size we will make the blind.
When measuring for blinds please use a metal tape measure as cloth or plastic tape measures may stretch. Always quote sizes in millimetres.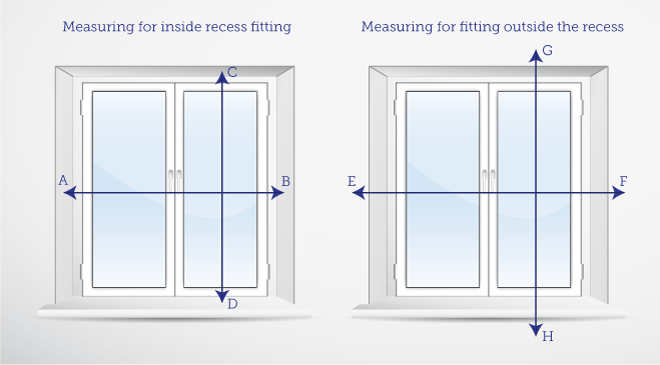 Please
contact us
if you can't find what you're looking for.